[Victory Bell Rings] As this week continues the streak of unpredictability, 247Lions($) is reporting a commitment this evening. According to the folks on Twitter, it is from  Arizona LB Brennan Franklin. He is a member of the 2012 class. It's unclear if he is a walk-on or a scholarship athlete with the sanctions recently levied on Penn State. My assumption is that he will be a scholarship athlete from 2012, as that year was not effected by the ruling. I think.
Penn State wanted to bring in a second linebacker in the 2012 class, and they have managed to do so, nearly six months after signing day.
Franklin is originally from the Chicago area and is a middle linebacker-type. At 6'2″ 240 p0unds, he certainly has the size capable to do that. Between Rivals and 247Sports, Franklin's offers include Mississippi State, Eastern Kentucky, Robert Morris and Wofford.
Added Note: Brennan Franklin recorded 450 tackles in his high school career and earned First Team All-State Honors as a senior. He will enroll at PSU August 3rd.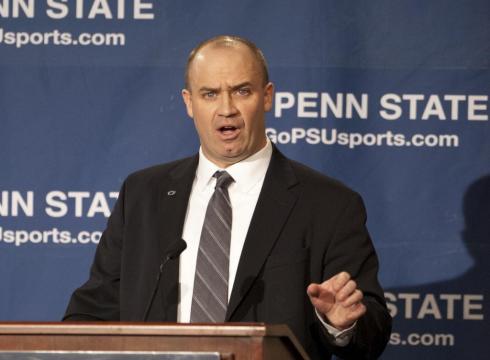 Hold on. Hold on.. So let me get this straight. Penn State gets crushed by the NCAA sanctions on Monday. People are freaking out. Everything seems to be going wrong. Silas might go to USC. Coaches are recruiting players out the ass. The 2013 class is in question. Idiot analysts are comparing us to Temple and a 1-AA school:
Did #PennState just become #temple or is it more #Villanova?
Temple, Really??
Anyways.. by Thursday B.O.B. is out their still getting recruits. Somehow. Someway. It may not be a 5-star linebacker. But it's a 6'2, 240 pound hard hitting linebacker from Arizona for the 2012 class. The point is B.O.B. can still get guys to buy in and come to PSU even in it's worst time. Can't praise this guy enough. Can't wait for September 1st.
Ps. He's even got his coaches telling other coaches to fuck off:
RT @TheGoonShowPSU: Coach Butler is actively calling other coaches to back off #PennState players